These are my best book to movie/TV adaptations that I've read in 2014
I may have broken a few rules in choosing a topic for this one (naughty me), however, in my defense, IF I'm FREE to choose a topic of choice than why stipulate? I also chose a couple of books like The Giver, and If I Stay that I hadn't read in 2014 however I watched the movie in 2014! :p Don't Judge Me . . . pleaase.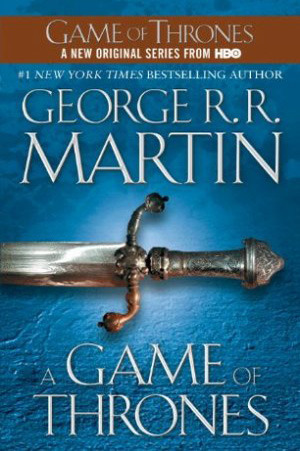 Game of Thrones
4th season premiered on April 6, 2014. Season 4 is mostly based on the second half of
A Storm of Swords
, the third book in
A Song of Ice and Fire
series by George R.R. Martin. You can watch all 10 episodes on
HBO
like I did :) and I've seen all 4 seasons
The Hobbit: The Battle of Five Armies is
my favorite book-to-movie of 2014 by far. An Epic Fantasy.
3
Outlander
premiered on Starz in the U.S.A. on August 9, 2014.
Fallen
by Lauren Kate The film is in pre-production so I haven't seen it yet, but is currently slated to hit theaters in 2014. I read
Passion
in February 2014.
The Prizoner of Azkaban
. Although the movie isn't a 2014 release I read the book for the first time in 2014

6
The Maze Runner
. The movie was released in Theaters September 19,2014. I thought it was a mix of Hunger Games and Game of Thrones with the watchers beyond the wall thing .
7
If I Stay
released August 22, 2014. I watched the movie about a week ago and I liked the book more.
8
Guardians of The Galaxy
was released in 2014. My favorite character is Groot . Loved it.
9
The Giver
hit theaters on August 15, 2014, The sameness reminded me of Logan's Run.
10
Teenage Mutant Ninja Turtles 2014
. If you loved those turtles in a half shell before this movie will shell shock you Honestly.
So before anybody protests I will choose a topic that is listed in the rules and one that I used last year .
1.The Song of Ice and Fire #1 by George R.R.Martins best villains are.. .
The White Walkers
and their Master
2.The Hobbit: The Battle of Five Armies
The Pale Orc Azog
Smaug the dragon.
3.Outlanders ... Black Jack Randall
4.In Passion, Lucifer appears as Bill the gargoyle,
a guide to Luce who helps her travel through the announcers to different lifetimes.
5.The Maze Runner
Gally The arrogant, dark-haired bully.
6.Guardians of The Galaxy
Ronan The Accuser
7.Harry Potters Tom Riddle / Voldemort
I'd read the book first time this year.
8.Teenage Mutant Ninja Turtles 2014 -
Shredder
9.Brady Hartfield in Mr. Mercedes by Stephen King
sorry no picture of him
10.Sebastian Morgenstern in City of Heavenly Fire by Cassandra Clare