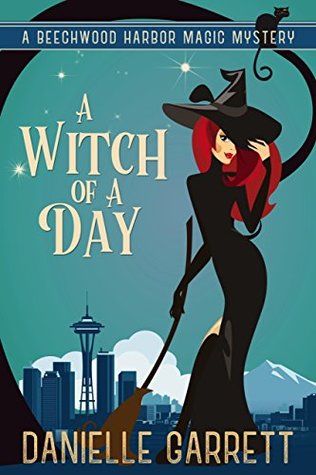 A Witch of a Day: A Beechwood Harbor Magic Mystery Novella
by
Danielle Garrett
My rating:
3 of 5 stars
Holly is having a witch of a day. Friday the thirteenth should be a day of paranormal delight, but instead, Holly is fighting off the ghosts from her past; the exorcized can't be exorcised. When a strange, hooded figure approaches her with an unthinkable task, Holly is forced to walk the line between light and dark magic, where one wrong step could ruin everything.
***A Witch of a Day is the prequel novella to the Beechwood Harbor Magic Mysteries Series by Danielle Garrett. Meet Holly and uncover the secrets on her road to Beechwood Harbor.
Turns out Holly Boldt was framed by an evil wizard. This stranger forced her to make an illegal magic spell and she got busted for it. That is how and why she ended up in Beechwood Manor halfway house for displaced paranormals.
The evil stranger, on the other hand, attempted to break Holly's ex-boyfriend out of jail by using the magic potion/spell. Well, now she won't have to appear in court in front of her ex-boyfriend anymore, because he is going to rot in jail, but it also means she is banished from her supernatural Haven community.
Murder's a Witch
by
Danielle Garrett
My rating:
3 of 5 stars
Holly Boldt has a secret. Well, technically, she has lots of them. After a scandal uproots her entire life, she is forced to relocate to a halfway house for displaced paranormals. It's her last shot for a fresh start. But keeping secrets isn't easy in a town that goes through gossip faster than tissue paper, even for a powerful witch. When a grisly murder rocks the small town of Beechwood Harbor, Holly finds herself unwillingly entangled in the investigation. With everyone watching, Holly must solve the case before she's forced to abandon her new-found home and live life as a witch on the run. But with a paranormal investigator tailing her every move, a civil war brewing between her vampire and shifter roommates, and her ghostly landlord on the edge of a breakdown, she can barely think in complete sentences. How is she supposed to track down a murderer? Holly has to make it work, or risk losing everything … again. Murder's a Witch is a cozy witch mystery with a spunky twist. Come see what's brewing in Beechwood Harbor in this first installment of The Beechwood Harbor Magic Mysteries Series.
Is Murder's a Witch a marketing ploy to get us to read more of her books? It's a genius. My fondness for paranormal fantasy and witches has been rekindled. Holly Boldt is a potion's witch that comes to live in a halfway house for displaced paranormals in Beechwood Harbor. The elusive reason why she ends up living with 4 other paranormals is not explained until we read the prequel novella,
Witch of A Day,
but we have a vampire, a shapeshifter wolf, a gargoyle and a ghost.
I don't know what it takes to write good characters but Danielle seems to have it in spades.
I loved all the characters in this book!
Even the ones who are bad.