Waiting on Wednesday is a weekly meme that spotlights upcoming releases that we're eagerly anticipating. To view all the participants visit
Jill@Breaking the Spine
I can't wait for the
Dark Artifices series by Cassandra Clare
because we will hopefully see glimpses of the characters we have all come to know and love again and they will be older and I love the Mortal Instrument series so....
Lady Midnight
is the first book in The Dark Artifices trilogy , which is coming in late 2015/early 2016.
Clare's third Shadowhunter Chronicles series will focus on Emma Carstairs and the Blackthorns of the Los Angeles Institute five years after the events of City of Heavenly Fire. Emma, Julian and other characters first made an appearance in City of Heavenly Fire setting up a new world of Shadowhunters.
SYNOPSIS
Expected Publication: MARCH 2015
Los Angeles, 2012. It's been five years since the events of the Mortal Instruments when Nephilim stood poised on the brink of oblivion and Shadowhunter Emma Carstairs lost her parents. After the blood and violence she witnessed as a child, Emma has dedicated her life to the eradication of demons and being the best, fastest and deadliest teen Shadowhunter since Jace Lightwood. Raised in the Los Angeles Institute, Emma is paired as a parabatai with her best friend, Julian. As Emma hunts those who caused the death of her parents, the trail they're following leads back to those they've always been taught to trust. At the same time, Emma is falling in love with the one person in the world she's absolutely forbidden by Shadowhunter Law to love. Set against the glittering backdrop of present-day Los Angeles, Emma must learn to trust her head and her heart as she investigates a demonic plot that stretches from the warlock-run nightclubs of the Sunset Strip to the enchanted sea that pounds the beaches of Santa Monica.
Here are snippets from LADY MIDNIGHT, the first installment in THE DARK ARTIFICES trilogy
Snippet #1
The cycle hit the beach and spun out. Emma went into a rolling crouch as she flew free of it, keeping her elbows in, pushing the air hard out of her lungs. She turned her head as she hit the sand, slapping her palms down to roll herself forward, absorbing the impact of the fall through her arms and shoulders, her knees folding up into her chest. The stars wheeled crazily overhead as she spun, sucking in her breath as her body slowed its rolling. She came to a stop on her back, her hair and clothes full of sand and her ears full of the sound of the wildly crashing ocean….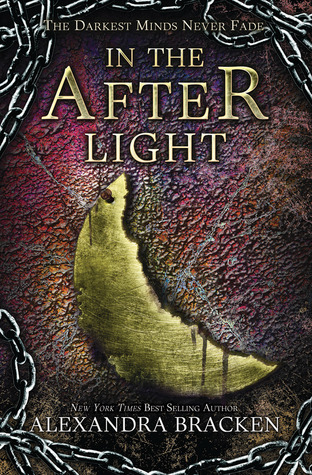 In the Afterlight (The Darkest Minds #3)
by Alexandra Bracken
Hardcover, 496 pages
Expected publication: October 28th 2014
Ruby can't look back. Fractured by an unbearable loss, she and the kids who survived the government's attack on Los Angeles travel north to regroup. With them is a prisoner: Clancy Gray, son of the president, and one of the few people Ruby has encountered with abilities like hers. Only Ruby has any power over him, and just one slip could lead to Clancy wreaking havoc on their minds.
They are armed only with a volatile secret: proof of a government conspiracy to cover up the real cause of IANN, the disease that has killed most of America's children and left Ruby and others like her with powers the government will kill to keep contained. But internal strife may destroy their only chance to free the "rehabilitation camps" housing thousands of other Psi kids.
Meanwhile, reunited with Liam, the boy she would-and did-sacrifice everything for to keep alive, Ruby must face the painful repercussions of having tampered with his memories of her. She turns to Cole, his older brother, to provide the intense training she knows she will need to take down Gray and the government. But Cole has demons of his own, and one fatal mistake may be the spark that sets the world on fire.
About Alexandra Bracken
Alexandra Bracken was born and raised in Arizona, but moved east to study at the College of William & Mary in Virginia. She recently relocated to New York City, where she works in publishing and lives in a charming apartment overflowing with books.
You can visit her online at
www.alexandrabracken.com
or on Twitter (@alexbracken).