This Week In Reviews
I have not read The Arcana Chronicles series until now because I never liked YA, but I loved The Immortals After Dark series. Since The Dark Calling is a new installment in the Arcana Chronicles and is set to be published this year, I don't want to miss out.
I also purchased Poison Princess on Kindle for only $5.99, because I can't follow a story just by listening to it otherwise, I get too distracted. By reading along it helps me to not get lost in the details but I am excited to dive into it.
Poison Princess, Book 1 by Kresley Cole
22 Arcana cards. 22 young assassins. May the best hand live. Introducing The Arcana Chronicles from #1 New York Times bestselling author Kresley Cole. She could save the world--or destroy it. Sixteen-year-old Evangeline "Evie" Greene leads a charmed life until she begins experiencing horrifying hallucinations. When an apocalyptic event decimates her Louisiana hometown, Evie realizes her hallucinations were actually visions of the future--and they're still happening. Fighting for her life and desperate for answers, she must turn to her wrong-side-of-the-bayou classmate: Jack Deveaux. But she can't do either alone. With his mile-long rap sheet, wicked grin, and bad attitude, Jack is like no boy Evie has ever known. Even though he once scorned her and everything she represented, he agrees to protect Evie on her quest. She knows she can't totally depend on Jack. If he ever cast that wicked grin her way, could she possibly resist him? ...
I plan on listening to The Invasion of the Tearling from the Overdrive Library next...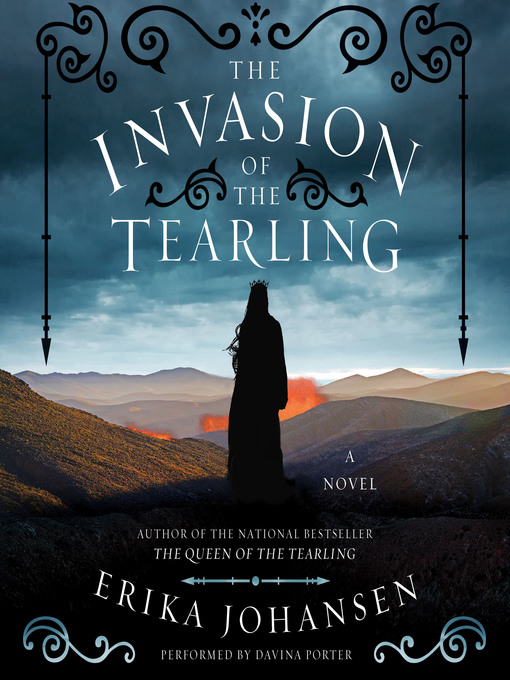 The Invasion of the Tearling, Book 2 by Erika Johansen
In this riveting sequel to the national bestseller The Queen of the Tearling, the evil kingdom of Mortmesne invades the Tearling, with dire consequences for Kelsea and her realm. With each passing day, Kelsea Glynn is growing into her new responsibilities as Queen of the Tearling. By stopping the shipments of slaves to the neighboring kingdom of Mortmesne, she crossed the Red Queen, a brutal ruler whose power derives from dark magic, who is sending her fearsome army into the Tearling to take what is hers. And nothing can stop the invasion. But as the Mort army draws ever closer, Kelsea develops a mysterious connection to a time before the Crossing, and she finds herself relying on a strange and possibly dangerous ally: a woman named Lily, fighting for her life in a world where being female can feel like a crime. The fate of the Tearling —and that of Kelsea's own soul—may rest with Lily and her story, but Kelsea may not have enough time to find out.
I am a little disappointed with the order of these two books arriving first. Really? It does me no good if I don't have the first installments that I ordered now does it?!
My bookshelf arrived, but I need help putting it together. I am so impatient, and I want it done NOW!
What else is new in your book world?